Looking for ways to perk up your home's style without dipping into your savings? While home magazines might ignite your excitement about visiting your nearest home decor store, that's not necessarily your only option.
If you want to stick to your budget or just explore your DIY side, then the home design ideas listed below are worth checking out. They are some of the best ways to add some style and personality to your home without spending a lot of money.
1. Spray Paint a Vase
Spray paint a clear vase silver, gold, or any other color to make it the focal point in any room. What's even better is that this will hide the water when it starts to turn color.
2. Use Wine Rack to Store Towels
Hang a wine rack on your bathroom wall and use it to store towels that have been rolled. This looks fancy and won't cost much!
3. Paint Vent Covers
Are your vent covers old, rusted and chipping? Make them look better by painting them black, white, brown, or any other color that matches your decor.
4. Make Bookshelf From Crates
Stain or paint cheap wooden crates and stack them two-by-two to make a beautiful DIY bookshelf that you can fill with just about anything.
5. Frame Outlet Covers
Add style to your home by sticking small frames around the outside of your outlet covers. This look surprisingly beautiful in the kitchen and bedrooms.
6. Paint Your Doors
Painting your doors with a new coat of any color will brighten up your home and give it a more customized look.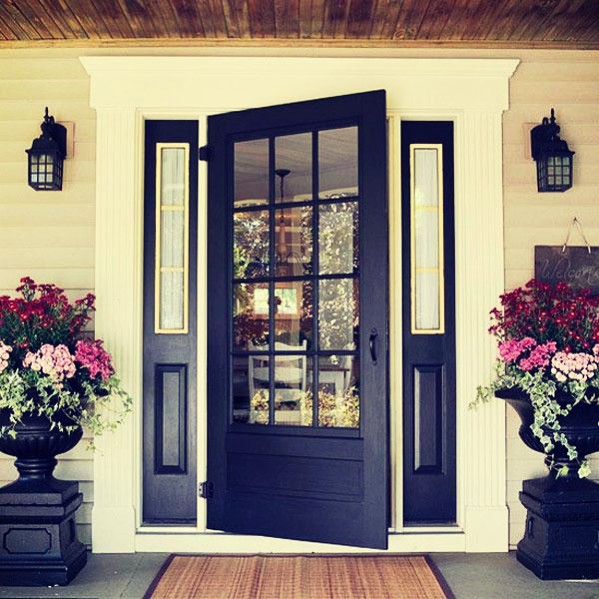 7. DIY Wall Letters
Wood wall letters can be expensive; make your own by stenciling the letters onto cardboard, cutting them out, and covering them with fabric.
8. Decorate with Vinyl Tape
Can't commit to painting but you want stripes on your wall? Use vinyl or electrical tape to add stripes without causing any damage.
9. Refresh Shower Fixtures with Spray Paint
Use a water-resistant spray paint on faucets and knobs to cover up rust and hard-water stains while refreshing the look of the room.
10. Make a Magnetic Spice Rack
After sticking small magnets to each of your spices, glue one more magnet for each underneath your kitchen cabinet. Once dry, you'll have an easy way to store spice without taking up more space!
11. Nail Baskets to the Wall
Lightweight wooden baskets can be used for storage on the wall when they are nailed up by their base (so the open part is facing toward you). Use this for towels, clothes, pillows, etc.
12. Re-Purpose Empty Plastic Snack Tubs
Peel the label off of a plastic tub, rinse it out, fill it with sugar, and place it on your counter with a new metal lid (you can find these online for cheap). Add more style by making a custom label and printing it from home.
13. Paint Outdoor Pots
If your outdoor pots have seen better days, give them a new look by spray-painting them. This will give your home immediate curb appeal.
14. Turn Your Fridge Into a Drawing Board
Feeling artsy? Paint a coat of chalkboard paint on your fridge and it will immediately become a place to write lists and celebrate your latest art skills.
15. Customize Under the Sink
Make the area under your sink look better by installing stick-on vinyl tiles on top of it.
16. Paint Nightstands
Add a pop of color to your bedroom by painting the nightstands yellow, blue, or any other color you're comfortable with.
17. Ditch Mouthwash Containers
Pour your mouthwash into a decanter or glass container. It will look beautiful without costing a lot of money.
18. Hang Lightweight Curtains with Command Hooks
Curtain hooks can be expensive; use Command hooks instead and you'll save money without causing any damage.
19. Update Your Ceiling Fan
Old ceiling fan? Make it look new by painting the panels or even covering them with a patterned contact paper!
20. Use PVC Pipe as a Curtain Rod
PVC pipe is affordable, comes in different sizes, and can be painted any color to become the perfect curtain rod.
21. Decorate Your Garage Door
Add immediate curb appeal to your home with a decorative garage door hardware kit. This will make it look like a custom carriage-style door without the cost.
22. Attach Trash Can Inside Cabinet
Save space by attaching your trash can to the inside of a cabinet in your kitchen.
23. Paint Rocks for Centerpiece
Spray paint smooth rocks gold or silver and place around candles for a centerpiece everyone will notice.
24. Use Cheap Jewelry as Curtain Tie-Backs
Cheap pearl or rhinestone necklaces make beautiful decorative tie-backs for curtains.
25. Cover Your Countertops
Use a granite painting kit to transform your countertops without spending a lot of money.
26. Paint Your Cabinets
Painting your cabinets is affordable and gives you the chance to choose a custom color.
27. Change Cabinet Hardware
Hardware is cheap and can make the entire room look more elegant and customized.
28. Refinish Your Tub
If your tub looks old, use a refinishing kit to make it look brand new again; this can perk up your entire bathroom.
29. Hang Crates
After painting or staining, nail the base of crates to the wall to create shelving that's personalize and stylish.
30. Paint Doorknobs
Coat your doorknobs with a fresh coat of paint for a new look in any room.
31. Customize Your Ceiling with Wood Planks
Cheap wood planks from home improvement stores can be installed on your ceiling for a customized look
32. Frame Your Mirror
If you have a clip-on mirror, install a frame around it and it will immediately look more elegant.
33. Remove Popcorn Ceilings
You can do this yourself with a simple and affordable kit; your home will look cleaner and more modern as a result.
34. Embrace Seasonal Decor
Make affordable fall plant holders by spray painting pumpkin candy baskets with rose gold paint.
35. Fake Wood Flooring
Peel and stick faux wood flooring is affordable, looks real, and can be placed over your existing flooring.
36. Update Your Fireplace
If you can't paint your fireplace, then stick on faux stone panels for an affordable and beautiful update.
37. Paint Your Light Fixture
Ugly brass light fixtures can ruin great decor; change this by spray painting the hardware gold or silver.
38. Use Contact Paper on Counters
Marble-printed contact paper can stick onto counters to give a realistic marble look!
39. Install Long Mirror on Closet Doors
Long mirrors are cheap and can be installed on closet doors to make the room look larger.
40. DIY Rope Wastebasket
A metal wastebasket, long rope, and hot glue gun is all you need to make one of those expensive looking rope baskets!
41. Paint Frames
Buy cheap frames, paint them, and use them to add color to your room!
42. Make Picture Ledge with Crown Molding
A small amount of crown molding will create a slim and beautiful picture ledge when nailed on the wall.
43. Update Appliance with Contact Paper
Stainless steel contact paper can be placed on the front of older appliances, such as a dishwasher, to create a more modern appearance.
44. Paint Your Kitchen
Over time the paint in your kitchen can begin to fade. A fresh coat of paint can solve this and give the room a brightened look.
45. Create a Vinyl Backsplash
Vinyl patterns can be stuck onto your kitchen wall to create a backsplash that looks custom painted.
46. Brighten Bookshelves
Add color to a bookshelf by painting the back panel of it any color you like.
47. Add Height to Your Bed
Make your bed look bigger and grander with bed lifts. These are affordable and will help open up the space under your bed as well.
48. Cover Trash Bin with Wallpaper
If your trash bin has seen better days, cover it with a beautiful wallpaper. This immediately adds style to your kitchen as well!
49. Stencil Your Address Numbers on Planters
Stencil your address on planters, place them on your front porch, and you've got a stylish way to number your home.
50. Use Stone Spray Paint
When used with a nice coating, stone spray paint can update the look of your counters, a vase, or even the top of a bookshelf.
51. Update the Look of Plastic Storage Bins
Spray paint the tops of storage bins with gold spray paint to make them look modern and fancy.
52. Wallpaper Your Stairs
Apply wallpaper to the side panels of stairs to add a beautiful and unique piece of style to your home.
53. Make a Gallery Wall
Cheap frames situated next to one another can be filled with pictures of anything for a beautiful gallery wall.
54. Stain Plywood Panel for Laundry Room
Stain a cheap plywood panel and situate it over your washer and dryer for a nice shelf that looks custom.
55. Paint Inside a Lamp Shade
Painting the inside of a lamp shade will add color and brighten up the room.
56. Add Tassels to Your Lamp Shade
You can find tassels for cheap at craft stores and they only take a few seconds to glue on.
57. Install New Lightbulbs
The lighting in your home could be making it look older. Install new bulbs to change this in an instant.
58. Wax Your Floors
Waxing your floors can bright them up, make them look new, and even help make your room look bigger.
59. Experiment with a Bold Paint Accent Wall
Paint an accent wall with a bold paint color like orange or dark blue; you'll be glad you did when you see how great it looks!
60. Stencil an Outdoor Rug
A stencil, waterproof spray paint, and a cheap outdoor rug is all you need to make a custom looking rug.
61. Paint the Garage Door
Use a waterproof paint to refresh your garage door and give your home more curb appeal.
62. Contain Your Sectional
Keep your sectional together for cheap by placing rubber shelf liner under each of the legs.
63. Paint Candle Stick Holders
Clear candle stick holders can look dated, but when they are painted they can look modern and unique.
64. Organize the Bathroom
By placing cotton balls, cotton swabs, and other toiletries into cheap glass cylinder containers you'll be adding an extra design element to your bathroom.
65. Change Dated Lighting
If you have older lights, replace them with new fixtures and your entire room will look more modern.
66. Decorate with Window Treatments
Can't afford traditional window treatments? Make your own; there are many guides online including some that use cheap duvet covers to make curtains.
67. Stick Command Hooks Inside a Kitchen Cabinet
Hang measuring cups or spoons on these for hidden storage.
68. DIY Throw Pillows
Add style to your home with throw pillows; make them yourself by ironing cheap embroideries onto clearance pillows.
69. DIY Your Decor
Need cheap kitchen decor? Spray paint cheap spoons, knives, and forks with white spray paint, then glue them into a frame.
70. Re-Caulk Your Tub
New caulk will make your bathroom look cleaner while providing it with extra water resistance.
71. Make Canvas Art
Cheap canvas is easy to find at craft stores, along with flat wood letters. Glue letters onto the canvas, spray paint, and hang for a beautiful addition to your home.
72. Cover Your Headboard
Buy cheap new fabric and use thumbtacks to attach it to your headboard for a new and updated look.
73. Build Shutters
Shutters outside your home add instant appeal, but can be expensive. Fortunately you can make your own with the many guides there are online.
74. Install Crown Molding
This can be expensive, but there's a cheaper alternative if you're willing to use those made out of foam over plaster.
75. Cover Stairs with a Runner
Instead of paying to carpet your stairs, glue cheap and long runners along the middle.
76. Install a Water Filter
This is one home update that will save you money year after year while eliminating bulky water bottles from your home.
77. Refinish Your Deck
Refinishing your deck is affordable and will transform the look of it.
78. Power Wash the Exterior of your Home
This will get rid of stains and dirt from the roof, sides of your home, and even driveway.
79. Personalize Laundry Room Flooring
Lay down self-adhesive tiles ($2 a square foot) for a new look in a small room.
80. Clean Your Bathroom Vent Fan
This will enhance safety and eliminate dirt and fuzz that can be unsightly.
81. Organize Your Garage
By organizing your garage with plastic bins you'll save space and may be able to park your car in it!
82. Frame a Flat Screen Wall-Mounted TV
This is affordable, easy, and can make your living room look custom designed.
83. Add Floating Shelves
Floating shelves are affordable, easy to install, and can be just as functional as they are beautiful.
84. Paint Tile Flooring
This is very affordable, just make sure to seal the flooring with two coats of poly-acrylic afterward.
85. Add Mirrors
More mirrors in your home will brighten up the space while making it look bigger.
86. Cover Your Thermostat
A thermostat can be an eye sore, but it can be affordably covered with a canvas painting that's hung on a hinge.
87. Organize Your Kitchen with a Cake Stand
Repurpose a cake stand by placing your soaps, sponges, and clothes on top of it.
88. Try an Accent Ceiling
Want to go bold without spending a lot? Paint your ceiling a bright color!
89. Paint Half Your Walls
Painting the bottom half of your walls a color and the top white will make your walls appear longer and won't cost much.
90. Cheapen Candle Decor
Place a can of veggies in a large glass vase and top it with a candle that's the same width. Fill vase with coffee beans and you'll have cheap candle decor that looks expensive.
91. Make a Faux Plank Wood Wall
To do this for cheap, buy white paint and fence planks rather than expensive bead board.
92. Clean Your Grout
By cleaning your grout with a toothbrush and cleaning solution you'll make your floor look like new again.
93. Cover Your Router
Hollow out an old book and use it to store your router away from sight.
94. Install a Door Knocker
Installing this on your front door will cost less than $40 and add immediate style.
95. Make a DIY Fire Pit
All you need to do this is mortar and rocks (which hopefully you can find for free).
96. Paint Inside of Cabinets
Pain the inside of kitchen cabinets for a fresh new look without spending a lot.
97. Upgrade Wall Outlets
USB wall outlets will certainly come in handy and are affordable at roughly $20 each.
98. Turn a Filing Cabinet Into a Modern Accent
To do this, just cover the cabinet with finial wood accents that cost around $6 each.
99. Create Privacy Glass
If you want the look of privacy glass without the cost, simply apply transparent contact paper to the inside of it.
100. Install Entryway Hooks
Do this by painting a 2×4 piece of wood and nailing hooks onto it. This looks stylish, adds style, and doesn't cost much.
101. New Doorbell
Invest in a new button for less than $20 and the outside of your home will look stylish and modern!