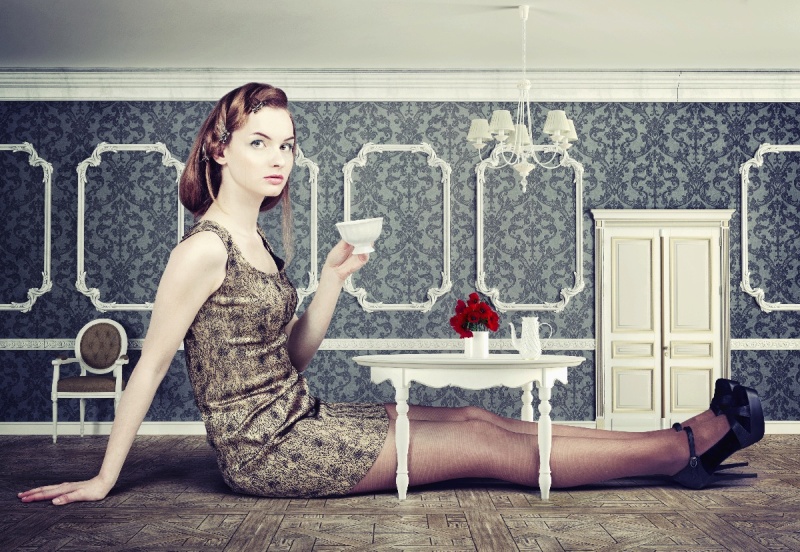 Whether it is a tight apartment space, a new home that is smaller than you would like, or simply one room in the home that is a bit too tight, it is not difficult to dress that room up in a way that stands out, even if you are limited in space.
You do not have to give up on the style you love, the design aspects you like, or even a home you love, simply because the space is a bit tighter than what you had expected. With the right tips and ideas, you can make any small space stand out, make it unique, distinct, and something that your guests are truly going to remember when they leave.
Here are 101 Ideas & Inspirations for Small Spaces that will truly make your home, a room, or any other space you are dealing with, stand out.
Double Duty
Just because the space is tight, doesn't mean you can't utilize it to the max. These are a few simple ideas for the tight space, allowing you to make more than one use of the space.
1. A platform bench can easily double as a coffee table. Not only can it be used for seating, it can be used for a small snack area as well.
2. Stools can double as side storage spaces, allowing you to place items you don't have space for elsewhere, on the stool, when it isn't in use.
3. The tight cubby space where your headboard is located can also be used as a storage space or closet, if the home doesn't have walk-ins.
4. Make that sofa by day, a bed by night. If you don't have a spare guest room, or if it is a studio space, you can easily utilize seating area for guests, and a place to sleep at night.
5. Bring the outdoors in with perennial indoor/outdoor pieces. Not only can you buy less furniture, but it also brings a rustic feel indoors.
6. Find furniture you can break up. For example, a sofa that can be broken out in to a sectional opens up the room, and opens more seating space for guests.
7. Hooks over doors can be used for hanging keys, as a coat rack, or to hang hats when you are limited in closet storage space.
8. Find vanities or pieces that work well in more than one room; such as mirrors you can use in the bathroom/kitchen area.
10. Banquets work as seating, as a corner for reading, or even a place for sleeping if you don't have a guest room.
11. Train racks work as hooks, for the bathroom, kitchen, or other area of the home you don't have storage for.
Multifunctional Room
12. If you don't have office space, a closet can do the job just fine.
13. The small guest bedroom can double as a nursery for your young kids.
14. A bedroom can double as a changing station/nursery for the kids.
15. If storage is an issue, underbed storage compartments will resolve the issue.
16. A loft can serve as a bedroom; it will open up any room, and gives you more downstairs space for guests.
17. The attic can serve as a bedroom or guest room, as well as storage space.
18. Your bedroom can replace a storage space, by simply replacing nightstands with storage cubes.
19. Living room by day and bedroom by night works for a studio space.
20. Your kitchen can also serve as a laundry room.
Appropriate Color Scheme
21. Purple shades can help enhance design elements, plus open up the space in a room.
22. White always works well in a small space, to help contrast furniture/decor, and open up the space.
23. Consider floral prints as a background, to detract from the size.
24. Make sure your covers/sheets, don't clash with the walls and furniture to close a space off.
25. If you have carpeting in a room, contrast with lighter shades for the walls.
26. With hardwoods, go with darker tones in a room to cozy up the space, without diminishing the size.
27. Bring in exterior decor, to help eliminate interior clutter.
28. Black shades (or lamp shades), contrast well with white walls.
29. Bring in natural sunlight as much as possible.
30. Warm tones, combined with grey, help create an inviting sense to the cozy space.
Lighting & Flooring
31. Eliminating dark corners with lighting helps greatly enhance the appearance of a room.
32. Hardwoods help open any space up.
33. Accent rugs help create a cozy, yet open space, with extremely tight quarters.
34. Mirrors open up any space, and give you a nice view of the space.
35. Darker rugs help accent the furniture in the room.
36. Larger lighting fixtures help create a sense of elegance and grandeur.
37. Pendant lights create a sense of openness.
38. Elaborate lighting fixtures help open up the room.
39. Avoid dimming lights.
40. Natural over imitation (flooring).
The Right Bedding
41. Narrow beds work well if you can't centralize the bed in a room.
42. Darker color sheets work wonders, with lighter walls and furniture.
43. If possible, centralize the bed, and add an area rug to open up the space.
44. Avoid corners when fitting the bed, unless there is no other option.
45. Go with under-bed storage, as it eliminates the need for additional furniture, and heightens the bed.
46. Go with foot stands, as they help raise the bed off the ground, giving the appearance of a larger space.
47. Warmer colors, for tighter spaces.
48. Create a theme for the room's owner.
49. Glossy surfaces help create a grand space.
50. Bunk beds are the obvious choice for tight space.
51. A desk below a bed is a ideal work space, and fun place to sleep for kids.
Clever Storage
52. Use a spice rack on the wall for various items in the kitchen.
53. A small nook in any room can serve as a great office area.
54. Make it smart; if there is a corner, use it for storage.
55. Walls are great for bathroom storage, especially if you don't have storage below the sink.
56. Multipurpose storage is ideal when you don't have a room dedicated for certain items.
57. Dividers are perfect; they allow you to use a room, and separate it so guests can't see what is hidden away on the other side of the wall.
58. Use stairs; if you have a loft, beneath stair storage is a perfect solution.
59. Use creative storage cubbies you buy in stores to hold kids' clothing, shoes, and other items.
60. Use small corners for shelves and book cases.
61. Two in one with a bunk bed in a child's room, allows for storage, and a cool loft style sleeping area.
62. Use overhead loft area for storage, plus cool sliding ladders give your home that awesome appeal.
63. Removable boxes and trays are simple in any room.
64. Adjustable storage, with trolleys and hooks, not only gives you a place to put things away, but also storage for more than one room.
65. Hang on walls. From a bike, to your favorite guitar, or a child's games, all of these can be hung on the walls, to open space up on the ground.
Making Small Rooms Appear Larger
66. Clear the clutter. One of the biggest mistakes people make is putting things on top of each other; by clearing clutter, you can see, plus you can organize in your mind.
67. Open spaces. Keep furniture in corners, rather than in the center of the room. It will open up the space.
68. Go light, in terms of color. Lighter colors open a space, and create the appearance the room is larger than it really is.
69. Coordinate colors. Make sure you don't go crazy with color schemes, rather, make sure furniture and your walls match well.
70. Let the light in. Lighting helps open up any tight space.
71. Go see through. With see through material (fabrics, drapes), you can see in to the next room, giving the appearance that a room is bigger.
72. Reflective surfaces are a good way to make rooms appear larger as well.
73. Go big. Rather than several small pieces of furniture, buying larger pieces will make rooms look bigger. Even if it feels tighter, they do look larger.
74. Go with neutral tones and plain upholstery. Stripes and patterns are clearly going to block off and close the space off even more.
75. Light and airy fabrics work well, just like the lighter colors on your walls.
Decorate Smartly
The right decoration is also essential in a small space. So, these are some factors to keep in mind.
76. Versatile furniture is in. If an ottoman can serve a dual purpose, do so; if a table can open up for storage, use it.
77. Don't accessorize. By eliminating clutter, and keeping it simple, a room will open up greatly.
78. Don't be shy; yes, light and airy colors open up a space. This doesn't mean you should shy away from dark color all together.
79. Keep it vertical. Dress up the room and decorate it vertically, so you keep the lower area for personal use.
80. Use your walls to free up floor space.
81. Hide your storage. Fabric, or dividing walls are great.
82. Use dividing walls; they allow you to open up a room when guests are there, and store away when they aren't.
Know the Tricks
When decorating a small space, there are a few tricks to help open it up as well.
83. Use art. Artwork will detract from the small area, and force guests to look at the decor.
84. Sculptures, like artwork, don't clutter a space, and can greatly help open it up.
85. Use your furniture. Contrast colors, make sure it is grand, and make sure it helps decorate a room well.
86. Larger windows, bay windows, and doors, are also a simple way to bring the outdoors in, and open up that tight space.
87. Call attention to seating; use a decorative rug, or accent piece that draws the attention to that area, rather than the small space.
88. Go with patterns (not too many though). This helps detract from the tight quarters, and forces guests to look at your cool style.
89. Keep it subtle with fabrics, so as to deter people from the small sized area they are actually in.
Don't Lose Sight of the Style
Again, just because it is a small area, doesn't mean you should lose sight of style.
90. Incorporate cool trunks and chest; they are great for storage, and add a rustic feel and style to a space.
91. Use armoires or tall bookcases. They are stylish, and they serve the dual purpose for storage.
92. A banquette is a great addition to a kitchen; it is stylish, plus serves the purpose for seating.
93. Go slim, with your furniture. Taller pieces are in, plus they greatly expand the size of the room.
94. Go big; don't shy away from larger furniture, as this will help open up the space, plus give you that added storage bonus.
95. Choose accent pieces. This will detract from the size issue, and create that great looking space.
96. Use vases, bins, and similar items. Although they are meant to be decorative, you can also use them to tuck small items away in to.
97. Go with texture. Use texturing on your walls, and color choices.
98. Go with layers. Use different styles of fabric in the room.
99. Add large area rugs; this is a great way to cozy up the room, without compromising the size, or closing it off.
There are a few other tips to consider when it comes to tight spaces.
100. Keep it simple. You are dealing with a small space, the simpler it is, without compromising on style, the better it will look.
101. Lastly, remember what you love. You chose this space (home or apartment, because of location and other things you loved). So, you don't have to compromise on style or decor you love, just because it is a tight space.
Small doesn't mean lacking character or style. These simple tips will help you decorate any small space, make it look bigger than it is, and make it stand out in a way that you love as well.