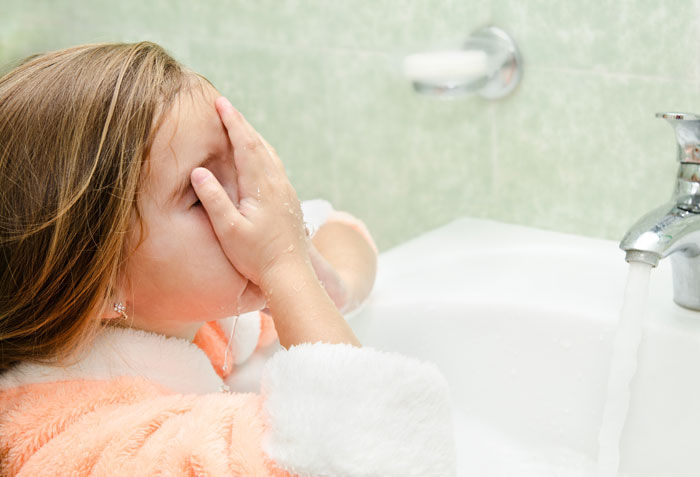 Kid's love having a bathroom all their own so why not make it something memorable? Dr. Seuss is a favorite of young and old alike and it can readily be incorporated into nearly any bathroom design. Here are some of our favorite ideas for a Dr. Seuss bathroom design.
Shower Curtain
There are a wide array of shower curtains available with Dr. Seuss characters on them. Find your favorite Dr. Seuss book and go with a fun theme for the bathroom. Since the shower curtain is usually the most noticed accessory this is an ideal place to start when considering the overall theme of the bathroom. Whether it's The Cat In The Hat, or One Fish Two Fish Red Fish Blue Fish you'll have plenty of selections to choose from in considering the theme of your bathroom. Once this is done you can go to the next item and work your way through designing the bathroom.
Towels
Match your towels to the shower curtain either by color or by book. Example: If you went with One Fish Two Fish Red Fish Blue Fish you could have red and blue towels or you could have fish shaped towels or you could even go with actual Dr. Seuss Towels. No matter how you mix and match them you're sure to have a hit and a kid that never wants to leave the bathroom.
Rugs
Again, you can go with the theme here, or choose a dominant color for the bathroom. Reds and blues are pretty common in all of Dr. Seuss books. Go with the basics and you simply can't go wrong. You can even opt for fish shapes or whimsical shapes if you choose to do so.
Holders
Here is another fun item to add into the bathroom. You can choose tooth brush holders, a water glass, a soap dish etc. Since it is a kid's bathroom you'll likely want to go with some sort of durable plastic that won't break if they happen to drop it. Keep it whimsical and go with the basic colors or office Dr. Seuss items so that you're in the theme of the overall decor.
Walls
Your walls are going to be fun. There are a variety of ways that you can choose to decorate the walls. To begin with, you can paint them a solid color in reds, blues or another basic color from the books. Now comes the fun part. You can get wall decals or stencils and decorate the walls. You could go with a border at the top or at the wainscoting area and make it all the way around the room. Or, if you're really ambitious, you could decorate one entire wall and leave the others blank by depicting a scene from the child's favorite Dr. Seuss book.
Wall Mural
Another option for the walls is to use a large wall sized mural on one wall and make that a focal point. This could be from their favorite Dr. Seuss book and you can buy them already made or if you know a great artist you could have it designed especially for the kid's by having your artist friend paint it out for you. Either way, it's sure to be a huge hit and the kid's are going to love showing off their favorite part of the entire bathroom.
Reading Material
Let's face it, we all read in the bathroom. Kid's do it too. So, why not have a small sized book case with some great Dr. Seuss books in it so that the kids can have a good read while they are in there as well? It doesn't have to be a large sized book case but it should be large enough to have a few of their favorite Dr. Seuss books on.
Step Stool
Every child's bathroom should have a step stool. It helps to keep kid's from injuring themselves on the counter when they try to reach the sink and it also helps to keep them from climbing up on the counter. By having things within easy reach kid's are able to take care of their own personal needs such as brushing their teeth and washing their hands.
The step stool can be something whimsical in a basic color that matches the overall theme of the room or it can be an actual Dr. Seuss stool that is built to withstand a toddler jumping on it. Either way, it's a great addition to every kid's bathroom.
Toothbrushes
There are a variety of electric and manual toothbrushes that are available with the Dr. Seuss characters on them. Have each child choose their favorite character and personalize their toothbrush.
Hairbrush and Comb
No bathroom is complete without a hairbrush and a comb. Have kid's choose their own set and watch how often they actually want to brush their own hair.
Additional Accessories
Tub decals will help to prevent slipping in tubs and showers and there are a variety of selections available in Dr. Seuss themes for you and your kid's to choose from.
Pictures are another great additional accessory. If your child has ever had the opportunity to meet any of the Dr. Seuss characters you can have that picture framed and hang it in the bathroom. If they haven't met any of the characters you can still find a framed print of their favorite character or something from their favorite book and have that framed and hang it in the bathroom for them to look at and smile about.
Dr. Seuss fans world wide find unique and clever ways to celebrate their favorite cherished books and decorating a bathroom in Dr. Seuss style is fun and exciting to all fans young and old alike. Even adults will enjoy this bathroom and you may have to have them step aside so that the kid's can use their own bathroom. It's fun and exciting to create something from a favorite book.