Just thinking about the beach brings back so many wonderful memories of relaxing summer vacations and fun family outings. Whether it is frolicking in the water, sunning on a beach towel in the warm sand or taking a relaxing walk along the shoreline in the evening, the soothing sounds and beautiful scenery are things we can never get enough of. Now you can bring the serenity and beauty of the beach to your very own home. Here are some creative beach room ideas to transform your living room into a beautiful coastal sanctuary.
Walk Along The Beach Theme
Many of us have fond memories of walking along the beach in the warm sand to collect sea shells. This is a feeling you can re-create right in your very own living room.
Select soft colors for that relaxing beach atmosphere. Walls an be painted a soft blue-green shade along with white woodwork. For the furniture, choose neutral colors and add in hints of pastel blues, greens and corals. Tie the décor together with throw pillows that have shell or other beach patterns on them. For the living room floor, you can select something like weathered wood flooring or porcelain tile in a neutral tone. If you happen to be a beachcomber, you can incorporate some of your favorite treasures into your interior design. Or you can buy accessories like pieces of driftwood and shell lamps to complete the beach look for your living room.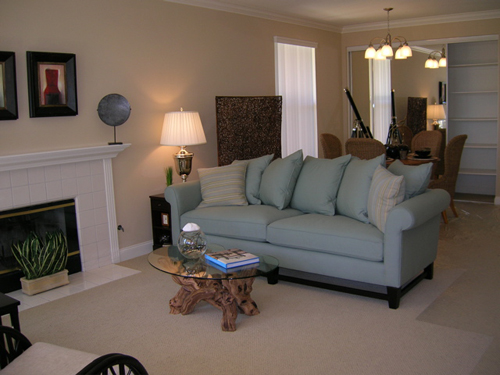 Island Paradise Theme
Choose bright island colors to create your very own tropical island paradise right in your living room. Think about vivid tropic flowers, sand and palm trees. Paint the walls a neutral sand color and use the furniture and décor for your color. Search for chairs and couches that have tropical foilage prints along with wicker or rattan wood frames. Add a splash of color with red, yellow or bright coral throw pillows. Wood blinds or bamboo roll shades will fit in very well with your theme. Pictures with tropical beach scenes including island plants and palms can tie your entire tropical island beach theme together.
Sandy Beach Theme
To give your living room the look of a sandy beach, choose beige and tan colors for furniture and walls. To help carry your theme, choose light woods or bamboo flooring. Wood shutters can enhance your look. You can also add sheer white curtains to soften the appearance. To complete your room, add a few palm trees or shell décor.
Nautical Beach Theme
Your beach trip is never complete until you get into the ocean. Use a white and blue palette to create your nautical beach look. Use true blues, including deep navy or sky blue tones. Pair these with white woodwork. Red can make a very bold and interesting accent color. For your floors, consider whitewashed wood or white tiles. To soften the look, think about adding a blue area rug. Finish things off with pictures of ocean views or boating scenes.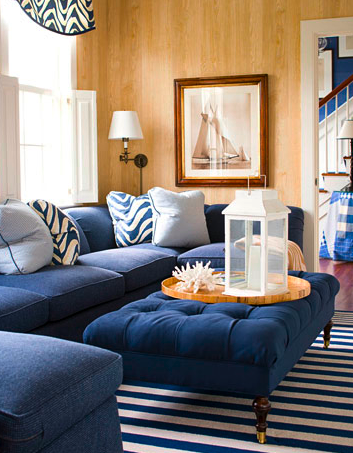 If you want to re-create your fond beach memories right in the comforts of own living room, try one of these beach room ideas. They are all easy and inexpensive to carry out. Once you are finished, you will be able to enjoy your beautiful new beach themed room for years to come.