There's just something about the look and feel of the beach that relaxes people naturally and provides that worry-free sensation. Imagine if you had a beach theme bedroom! It can certainly do wonders for your nerves once you go to bed after a tiring and stressful day. This is why it's a popular bedroom design or theme that is often chosen by many parents, children, teens, and even young adults.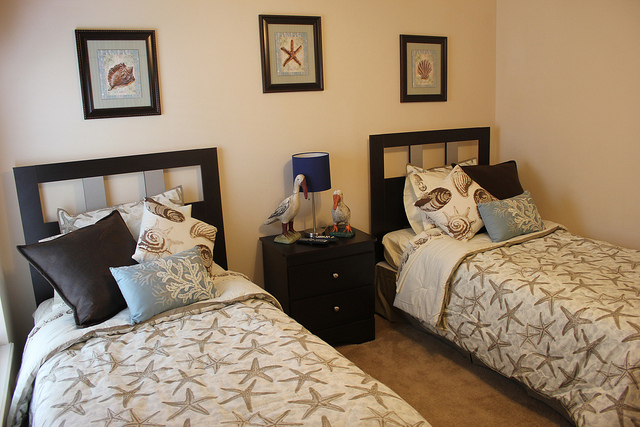 The Benefits of a Beach Theme Bedroom
Having beach bedroom décor can make you feel as if you're always on vacation. It gives you that sensation of being close to nature, which is often very helpful in soothing your tense body and clearing your mind. It provides a cozy feeling, making you truly relax in your own bedroom when it's time to rest and when you sleep at night.
Easy-to-Do Beach Theme Bedroom Ideas
How do you achieve a beach theme bedroom? There's no need to spend so much to do it. You don't have to hire a professional interior designer either.
Here are simple, affordable, easy-to-do beach bedroom décor ideas you can implement:
Paint your room in light, breezy-looking colors such as white, cream, mint green, soft blue, and baby yellow. These colors also bring to mind sceneries of the ocean and the beach.
Choose beach theme bed sheets and pillow covers in cool tones. These can have designs of shells, starfish, and the like. You can even avail of pillow covers that show the actual picture or a sketch of a serene beach. These can serve as beautiful accents to match plain sheets.
Inject that beach sensation even more by displaying actual shells on your bedside table or vanity dresser. Set them up with plain white pebbles and light-colored lovely candles. You can also place them as decorative items on shelves or put them by the windowsill along with a nice potted plant.
Choose beach theme decorative items such as picture frames designed with shells or a clock with a similar design.
Add a carpet and/or throw pillows and bean bags in neutral hues.
You can also display on the wall framed pictures or paintings of beach scenes or still shots of starfish and shells. If you are into photography or you're an artsy person, then all the more that you can even inject your own personality and interests in the room décor.
Pick furniture that have a distressed look to them or seem to be rustic in appearance. Or you may opt to have your existing furniture painted like such. Imagine as if your room is a cottage at the beach, so that you can picture the look needed.
If it's the room of a child, you can make it a bit more colorful. You can incorporate wall murals that depict beach balls, pail and shovel toys, beach umbrellas, and the like.

Beach Theme Bedroom Ideas for Color Schemes
Often when it's a beach theme, the main color used is white. It looks fresh and clean, just like the feeling of walking by the beach with the sea breeze blowing on your face and the gentle sound of the waves relaxing your mind and body. Now it is up to you to combine white with your choice of light hues and earth tones. You can inject some beige and browns, light greens and yellows, and cream. As accents, you can use pillows, vases, and carpets in sky blue or ocean green.
As mentioned above, children's bedrooms done in a beach theme will take on a more colorful and brighter look. You can already splash in some reds, blues, and greens all together. This is bound to put kids in a happier mood. However, just be careful not to overdo it or you might find them restless when it's time to rest and sleep. If you want, use this color scheme only for playrooms.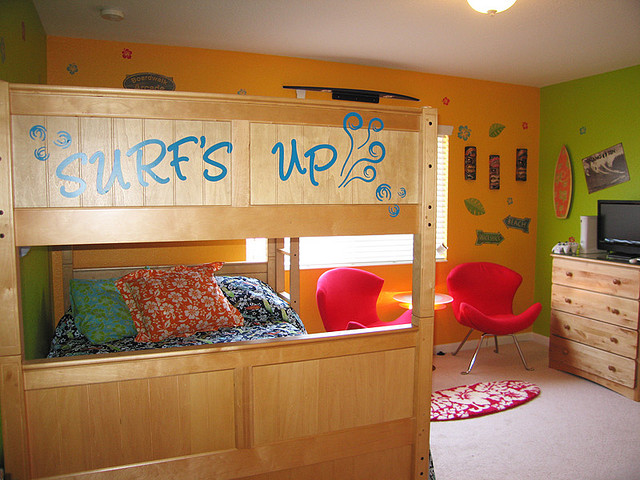 Indeed colors play a major role in beach theme bedroom décor. It's best to go for subtle décor that will not cost much rather than have to change your furniture into beach theme ones. You can simply change curtains and bed sheets, paint the walls yourself, and throw in several beach designed ornaments. This way, your beach bedroom decor will complement the purpose for which bedrooms are for— resting, relaxing, and sleeping.