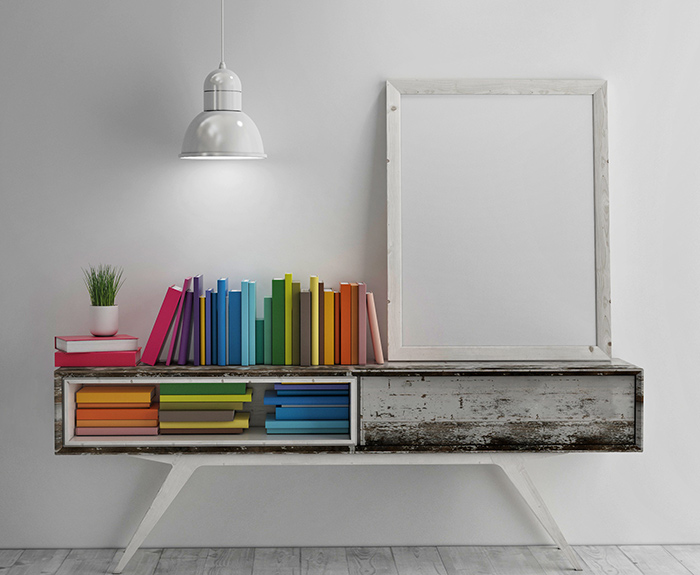 That dorm room looks pretty aesthetic when you first move in. Plain walls, plain floors and little more can make the room feel stark and cold. It doesn't have to be this way. There are many things that girls can do to decorate their dorm rooms and personalize them. It can be a great first time decorating experience and a lot of fun if they follow some of these great ideas.
Wall Mural
Using favorite photos create a wall mural that rivals all wall murals. Walls don't have to be boring, put up some great memories of childhood or friends or even favorite places. Even pictures of the family pets will bring a smile to her face when she is feeling sad and lonely. Or, get more creative and get some favorite posters and create a wall mural out of several posters. Either way, it's sure to be a winner.
Mirrors
Mirrors bring more light into any room by reflecting light from windows and lighting. Get a few small mirrors and get them hung up around the room or placed on a desk. Go for a lightweight full length mirror and hang it sideways on the wall with removable mirror tape for a unique addition to the room. It will brighten the entire room and just may save you some time waiting for the mirror to put your makeup on.
Book Shelves
College students have lots of books so why not create a place to put them. There are many easy to create book shelves around and they don't have to take up a lot of space. A few cinder blocks and a block of wood are ideal additions for this project.
Washi Tape
This paper tape is ideal for decorating just about anything. Very similar to painter's tape, it is removable and it comes in a variety of designs and colors. Ideal for putting a decorative touch on any dorm room as it can readily be removed without damaging walls.
Simple Headboard
Create a headboard out of a favorite quilt, poster, mirror or whatever else is on hand. Forget that dull boring wall above the bed and design something that will liven up the room.
Simple Furniture
Can't bring furniture into the dorm? It's okay, add in some throw pillows that can double as seating, turn a plastic trash can upside down and decorate it in a collage, washi tape or whatever else is on hand and then put a piece of wood or cardboard on it for a table. Throw a nice doily or scarf over it and it's all good.
Canopy
Fond memories of that canopy bed at home? You can create a 'canopy' bed by using command hooks and hanging some curtains or sheets from the hooks over the bed. It will be clever and unique and offer some modem of privacy when you've had it with the world of college.
Plants
Plants can liven up any atmosphere. Bring in a few ivy plants or 'airplane' plants and place them in a prominent place. Your room will be fresher and more inviting and you'll have a bit of the outdoors indoors. Plants also help to clean the air so the air you're breathing will be fresher and cleaner, at least in your dorm room.
Using Twinkle Lights
Gather up a few strands of Christmas or Twinkle lights and you're set here. Simply use push pins to 'hang' them from the ceiling, wall or around a window. Plug them in for some ambient lighting or use them to create a clever design or marquee on the wall. Use all one color or go with a variety of colors for a unique twist on the design.
Tapestry
Create a faux tapestry with a favorite quilt, sheet or wall hanging. Simply use push pins to add it to a wall or above the bed as a headboard.
Floor Cushions
When friends come over and you don't want them all on your bed you can have some cushions or pillows on your bed and throw them on the floor for study time or whatever you choose to do. An ideal way to make a bold statement here is to choose a color theme or design and run with it.
Bedding
Beds seem to be the focal point of many dorm rooms. Make a bold statement here with a nice bedding ensemble. If you're especially creative you can go the extra mile and create your own bedding with iron ons or a favorite sheet design. The sky is the limit here and you can really go all out. Match bedding to throw pillows or have them contrasting for extra appeal.
Removable Wall Paper Sheets
Plain walls are totally boring. Add some umph to the walls with removable wall paper sheets. Cut them to size, cut them out in shapes or simply take over a wall and give it some appeal. With so many to choose from the room can be customized and have it's own appeal.
Rugs
Bare floors are cold on the toes so why not grab a few throw rugs to add to the mix? It's quick and easy and not too hard on the budget. There are so many styles to choose from and they can match the bedding or the walls or anything in between.
Bulletin Boards
Everyone needs a place to put things and a bulletin board is ideal to put that reminder list on amongst other things. Create your own unique bulletin board with some cork and push pins and you're sure to remember that test next week or that you have study group tonight. Ideal in any room and it's easy to create with the cork and some washi tape or fabric if so desired.
Incorporate one or more of these ideas into your dorm room and you're sure to have the coolest room in the entire dorm. Who knows, you might just spark a new career for yourself in dorm room decorating for all of your friends.