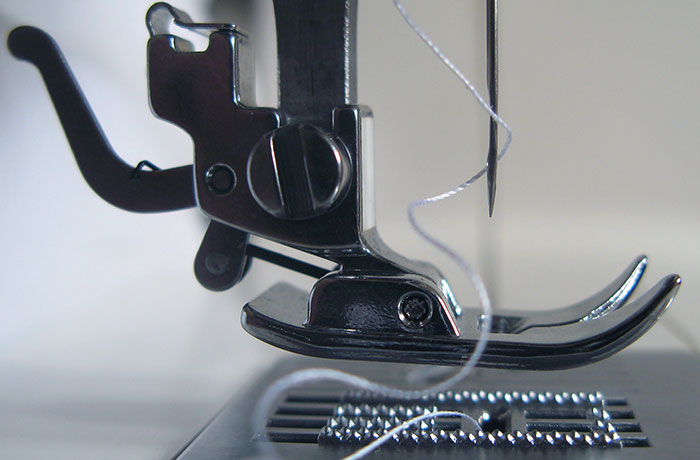 A beautiful set of handmade curtains and drapes can bring any room to life. When you custom-create your drapes, you can get exactly what you're looking for.
However, it isn't easy to make curtains. There are a number of things you'll want to keep in mind, especially if you're a beginner.
1. Make Sure You Hem Them Appropriately
The number one thing that makes a curtain look like it was made by an amateur is an inappropriate hem length. When you're making your own drapes or curtains, you'll want to custom fit them to the length of your room.
In most cases, you'll want your curtains or drapes to be floor length. Measure very carefully before you start working on your project, and check your measurements periodically. You can always hem your curtains shorter, but you can't easily add length.
2. Make Sure You Add a Lining
Unless you like the look of sheer curtains, you'll want to make sure to add a lining. Without a lining, drapes don't always hang properly, and they don't provide as much privacy.
Make sure you choose a lining that's either off-white or white. This will work well with your curtains no matter what color they are, and will help to reflect sunlight during the warm months of summer, cutting down on your energy costs.
3. Hem Things by Hand
When it comes time to hem your curtains, you may be tempted to pull out your sewing machine. However, you can get a more professional look if you hem things by hand. The stitches in hand-hemmed curtains are less visible, and they're less likely to have issues with puckering.
In most cases, a double-folded hem will be best for drapes. The exception would be if they're made from a sheer fabric, in which case you'd want to use a hand-rolled hem.
4. Make Sure You Have All the Fabric You Need
While sewing your own curtains and drapes allows you to get something beautiful for a fraction of the retail price, fabric can still be a big expense. Many people try to cut back on costs by buying a smaller amount of fabric.
However, not having enough fabric will simply leave you with poor-quality curtains. It's better to buy more of an inexpensive, simple fabric than buy less of a high-quality luxurious one. When it comes to curtains and drapes, fabric is king, and you'll want to make sure you have more than you need.
5. Be Careful With Patterns
If you're using a fabric that has a pattern, you'll want to be very careful. Take care to make sure that the patterns on your curtains are properly aligned. If the pattern is even a little off-balance, it'll stand out in an unappealing way.
When using patterned fabric, it's best to buy much, much more than you actually need. Otherwise, you may wind up in a situation where you're unable to properly align the patterns, and you may be left with unprofessional and messy-looking curtains.
6. Properly Prepare Your Fabric
If you purchase machine washable fabric, you'll want to wash and dry it before you do any sewing. Otherwise, your perfectly-measured curtains may shrink the first time you wash them, and your seams may wind up puckering.
It's also a good idea to iron your fabric beforehand. You won't be able to measure properly if your fabric is wrinkled or creased. The smoother the fabric is, the easier it will be for you to measure everything perfectly.
7. Handle Drapery Panels Carefully
Although drapery panels look easy at first glance, they're actually a huge challenge. You have to cut them perfectly straight, and you'll want to avoid using width panels entirely.
If you don't have a great deal of experience with drapery panels, you may want to make some with practice fabric several times before you try making them with the fabric you've purchased for your curtains. It's extremely easy to make a mistake, which means it's very easy for you to wind up wasting a lot of your fabric.
8. Choose Your Pattern With Caution
You may think that any store pattern will help you make the pattern you desire. However, some store-bought patterns contain instructions that aren't very detailed, or in some cases, are downright inaccurate. You'll want to ensure that the patterns you use have very clear instructions, and give you detailed guidelines on yardage.
If possible, you may want to take a closer look at a pattern before you purchase one. That way, you can be sure that it contains all of the information you'll need. Keep in mind that there are a number of free curtain patterns available online. There's a chance you may not have to buy a curtain pattern at all.
9. Make Sure Your Fabric Is Curtain-Appropriate
While it's possible to make curtains and drapes with all kinds of fabrics, some fabric types will make sewing a big challenge. It's best to avoid fabric that's slippery, as it can easily lead to fabric puckering and inaccurate seams.
You may want to choose a close-weave fabric. This type of fabric is ideal for curtains and drapes, and will allow you to use a thinner lining. Sewing curtains and drapes is a lengthy process, and choosing a fabric that's easy to work with can wind up saving you a great deal of time.
10. Take Your Time
When it comes to curtains and drapes, even a small mistake can greatly detract from their overall quality. You'll want to work very slowly to make sure you get everything exactly right. Rushing your curtains is the biggest mistake you can make.
Many experienced sewers don't think they need to take the time to measure and re-measure, or that they need to worry about checking their stitches. However, even people with experience can make mistakes. It's best to check and re-check everything you do so that your curtains look exactly the way you want them to look.