A rustic bathroom will look like a bathroom in a country house or a log cabin in the woods. It will be a bathroom that is closely linked to the outdoors, so it will use natural materials. Some natural materials that you can use in your rustic bathroom include wood and stone. Add to that some calm furniture and warm yellow and brown shades in wall color and accents.
You should know that you can combine a rustic style with either a traditional style or minimalist, industrial or shabby chic styles. The type of furniture, accessories and appliances that you choose to complement your rustic bathroom will be decided by which of these styles runs through your home decor.
Start with natural stone or wood floors. Add rough wooden furniture. And pick some rustic bathroom ideas from the following.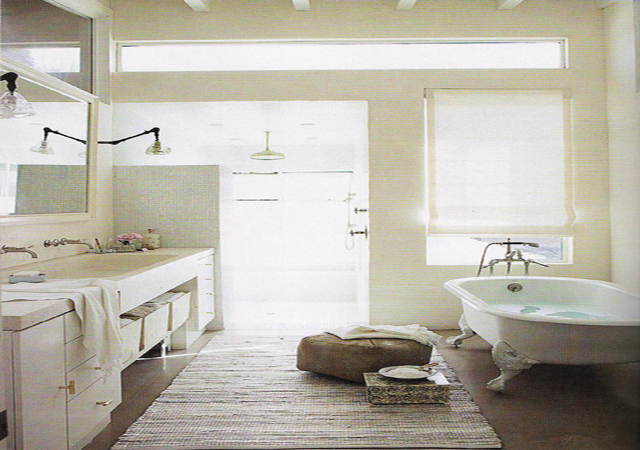 1. Convert a small bathroom into shabby chic – rustic
If you have a small bathroom, you can give it a great rustic and shabby chic twist with an old-style claw-foot bathtub as a focal point. Add white wood paneling for the walls and simple wooden floors. Drape windows with lace. Place your toiletries on a floating wooden shelf above the tub for easy reach. Add small rustic art on the walls and place a large basket of seasonal sprays for added charm. Warm yellow pendant lamps in traditional curvy shapes can complete the look.
2. A stone bathroom with wood and brass accents
In an indoor or semi-outdoor bathroom with stone walls and stone basins, you can add brass faucets, dispensers and decanters for your soap and bath care products. An attractive and calm substitute for a towel rod or towel shelf can be a rough piece of wooden frame box that fits in with the decor. If it is a semi-outdoor bathroom, you can add potted plant accents beyond the glass walls – ferns and palms make great bathroom accents.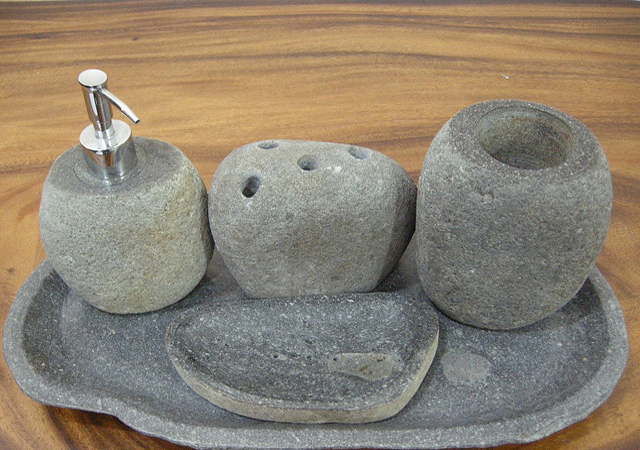 3. A traditional hunters' lodge bathroom
Recreate a hunter's cabin bathroom with simple, unpainted wooden paneling on walls and floors. Add a wooden table for a sink stand. Let a tin tub be the sink basin, and add brass faucets and towel rings. Hang up lanterns for an authentic and unadorned rustic hunters' cabin look.
4. Revamp old bathroom with rustic furniture
You can always get rid of the mismatched modern furniture from your bathroom with a traditional bathtub, and replace it with a few rustic items for a completely upgraded look. Replace cupboards with an unfinished cupboard. Add huge brass knobs to the cupboards. Place your bath products in old fashioned glass jars with corks, decanters and mason jars.
5. Add an industrial touch to a wooden bathroom
Think the industrial age and the Victorian age when you haul out old furniture from your attic. Add a tin tub for your basin. Place your sink on a wooden table. Pull out the old claw-tub shower mounts or buy a new one. Complement with warm naked yellow bulbs for lighting and some rustic wall art.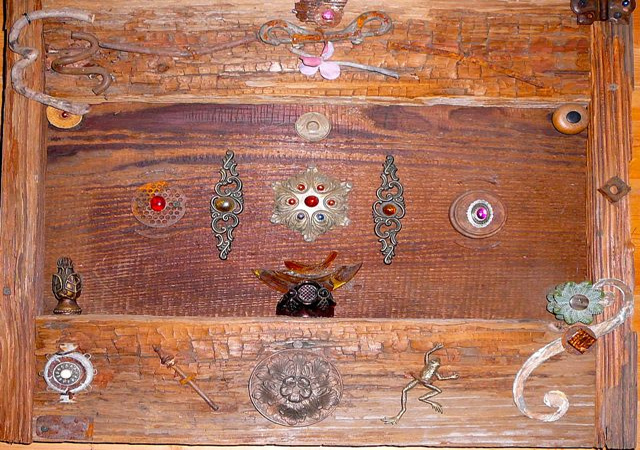 There are endless ways you can update your bathroom with a rustic design to create a warm and cozy ambiance. Think of what nature means to you, and you can come up with plenty of other ideas for a bathroom in which you can enjoy a bath and feel closer to nature.