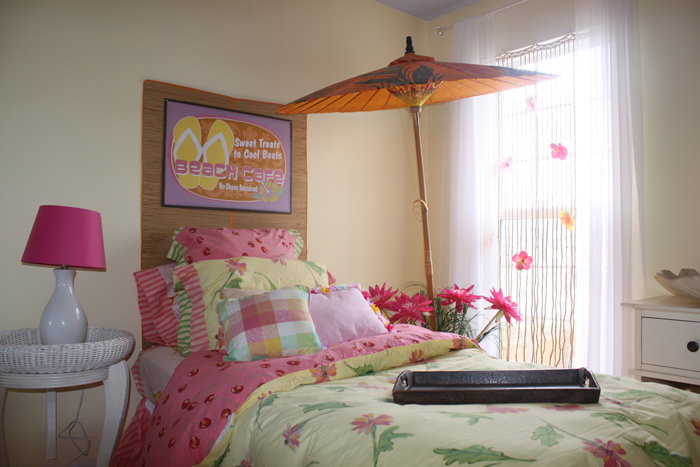 Any girl will be delighted with a beautifully decorated room. It can help enhance her comfort and self esteem. Planning to surprise your daughter with room makeover? Consider some great decorating ideas that you can do on a limited budget to turn a girl's plain bedroom into an awesome experience.
Girl's Room Decorating Ideas
A coat of paint is the first obvious solution. You can visit paint stores and allow your daughter to select her favorite color. Alternatively, you can often find bargain cans of paint at the store, and this can save you a bundle if you can find an acceptable color. Even a fresh coat of white paint can perk up a room, but you might experiment with pastels or bold colors, depending upon the girl's tastes.
If you plan on staying in your home for a long time, you have a lot of flexibility with paint. If you aren't sure if you might sell your home soon, you might choose a color that would appeal to either boys or girls, so you don't have to repaint just to appeal to a wider market.
Curtains, Drapes, and Blinds for a Girl's Room
You can have a lot of fun with the right selection of window coverings. These are also a lot easier to change out than a coat of paint is. If the room already has plain window coverings, you might want to store them in case your daughter's tastes changes as she matures or you decide to sell the house.
Blinds are really practical because they are easy to clean, help control light in the room, and may even help insulate the room for heat and light. You can find new blinds in a variety of awesome colors that might either complement or match the wall coloring.
Bed Coverings
Besides paint and window coverings, simply dressing up a bed can make a gigantic difference. For example, matching bed sheets, a new comforter, and some decorative pillows are fairly inexpensive and colorful additions. They are also sensible investments because they are useful, and you can change them out in a few years if your daughter's tastes change or you choose to move.
Say No to Plain Walls
Let your daughter influence the wall art or other decorations . Some posters of her favorite TV, movie characters, or celebrities can get inexpensively framed and add a touch of glamor to any room. Cork boards or even small white boards are also great and useful touches that your daughter can use to leave notes and express herself.
A big mural of photos of family activities, especially ones that include your daughter, is another good suggestion. Perhaps you can create one that you and your daughter could add to at times.
Furniture
Do what you can to help your daughter stay organized and neat. Besides a dresser for clothes, you might want to include some shelves or bins.
Best Tips for Decorating a Girl's Room
Things to keep in mind are cost, how easy it will be to reverse much customized changes, and how long you plan to stay in your room. With that said, a pleasantly decorated room should help your daughter's self esteem and make her eager to show her room off to her friends. It's definitely worth a bit of extra expense.
Here's the best tip: Be sure to make decorating a girl's room a parent and child bonding activity by asking for her input but moderating it with your own sensible suggestions. That way, your child gets to express herself, and you can use the whole project as a teaching moment to help her learn make fun and practical decisions.