Some people have master bathrooms that are 500 square feet, but most everyone has to work with a much smaller space. This in turn produces minimalist designs that help bring out more space and elegance to a bathroom, simply put. Of course, some people miss with the minimalist design and do not know how to still maximize the style. Would you like to know some great ideas about incorporating a unique and fashionable minimalist design in your bathroom?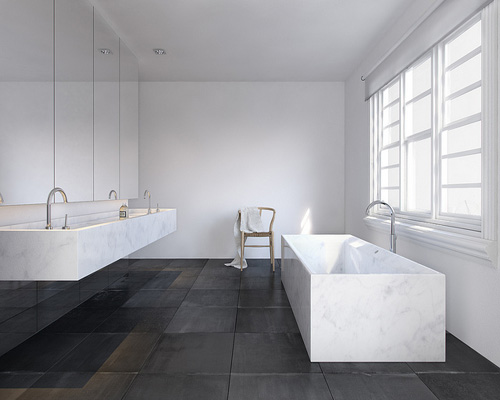 Pedestal sink
Going with a pedestal sink is not only space saving but very ornate and classic. This antique look has come back into style and is actually preferred. Granted, you can still have a rather large mirror with lights if that's your thing, but again minimalist features on the wall are space saving as well. The mirror might not protrude out, but you might want other things attached to the wall. Perhaps a nice small yet again ornate medicine cabinet with mirror would make a compact yet lovely addition to your bathroom?
It's generally a good idea if you place your toilet in the corner of the room. Placing it in the middle is intrusive and definitely not leaving wide open spaces for other more pleasant bathroom accessories. Toilet placement as well as everything else is important. Of course, this is going to depend much on your bathroom's exact dimensions and setup.
Stand-up showers
If you really need to have that full bath in your bathroom, well that's fine. However, before you get into the specifics of that, understand that stand-up showers are very stylish. There are very nice ways to do this, and of course you can put the jacuzzi outdoors or in another space if you have one in mind. You can have marble or tile walled and floored stand-up showers installed, and they are just really nice. Again, if you prefer the bath, hopefully you've saved enough space to still make your bathroom space look nice. There are really nice yet compact bath models if that is an option you want to keep in mind.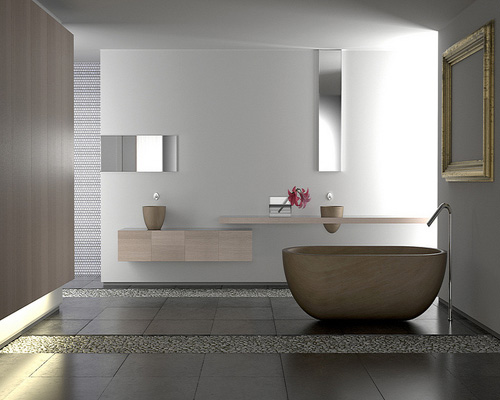 If you're designing a bathroom, always include a window if possible. A window to the outside might seem like an odd request, but letting in the sunlight and showing an open space to the person using the restroom makes the space appear larger. Therefore this is a great minimalist tactic that can be employed.
If you have saved enough space, now is time to put that plant in the corner. Only do this if you have enough space, and of course for extra small spaces, this can be a small plant. Plant life in the bathroom is ideal, and adding one in the mix without making it crowded is the key trick. Once you do this, whatever color scheme or theme you have going on in your bathroom will complete the look. You have now handled the minimalist look when designing your bathroom, and for sure it can save you some money, too.