Modern and contemporary homes, with their structural architecture, clean lines, understated furnishings and subtle colors, need to have lighting that is just as sophisticated. In fact, good lighting is central to providing a home with that cool, contemporary feel. That is why modern kitchen lighting is so essential whenever updating your kitchen or designing one from scratch.
When considering lights for the kitchen, functionality is just as important as aesthetics since activities like food preparation and washing dishes require good lighting. There are various ways of achieving this, including taking advantage of natural light during the day, adding windows and skylights, installing lights underneath the cabinets and in the ceiling and even adding wall-mounted lights.
Contemporary designs usually feature soft lighting, although bright fluorescent lights are another look that can provide a modern feel. The material of the lights is another thing to consider. Glass and metal are both materials that add a contemporary and fresh look.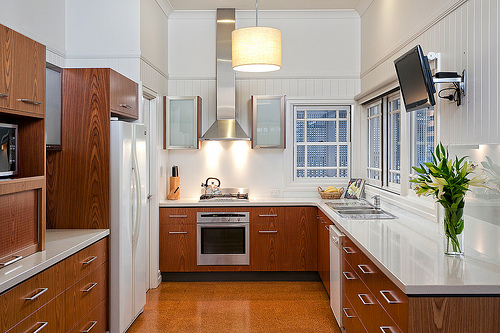 Here are a few kinds of modern kitchen lighting that go well in contemporary kitchens:
Pendant Lights
These are a popular choice for contemporary homes. Pendant lights can be installed in the ceiling. These are single light fixtures that hang from the ceiling from a metal rod, chain or cord. Several of these fixtures can also be installed in a line over your kitchen table or counter tops. These lights come in many different sizes and styles. They can also be made of many different materials, from glass to metal. Many of the modern pendant lights use fluorescent or halogen bulb and are low voltage, energy-saving models.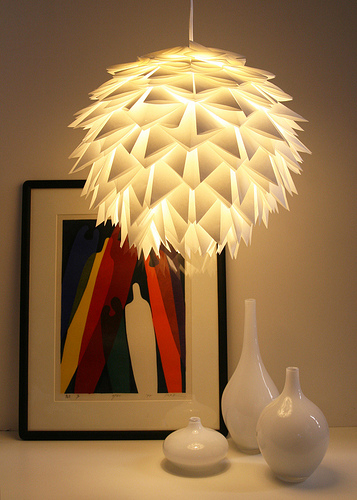 Track Lighting
Spot lights can be hung to point light wherever it is needed. This is very useful in a kitchen, where certain areas need to have focused light, such as over the kitchen table or sink. They can also be used for highlighting decorative items and works of art. Track lighting has a very distinctive and industrial feel, which goes well with modern and contemporary kitchen designs.
Wall Mounted Lighting
Not all kitchen lighting has to hang from the ceiling. Lights can also be mounted from the wall by using wall-mounted sconces or brackets. These can be made of metal, wood or other materials, which definitely lend themselves well to a contemporary design. The lamps themselves can also feature sleek modern designs and materials such as metal and glass.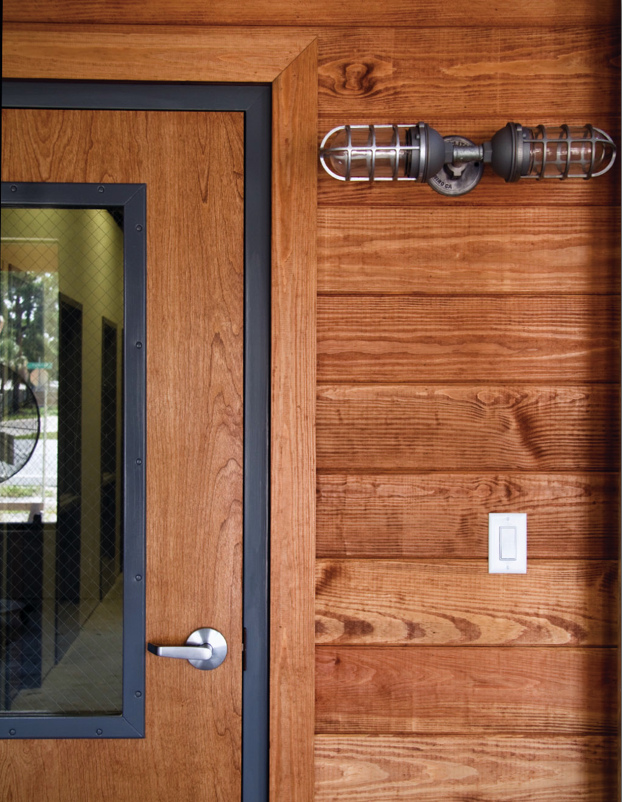 Lighting Combinations
One nice thing about contemporary design, is that eclecticism is welcome. When it comes to lighting, you can use several different types of lights and lamps in your kitchen for both functionality and aesthetic purposes. You may want to combine recessed light with under cabinet lighting and also have a few other kinds of lamps to give your kitchen layered lighting. Dimmer switches can also be added to help you control the ambiance of the room.
Modern kitchen lighting comes in many different styles, materials and design choices. Effective use of lighting can really add a great deal to any modern design. With some many different options available you, there is almost limitless possibilities in what you can do to create a fresh, contemporary look in your kitchen.