Using a rustic theme for your vanities in your bathroom can complete and compliment the look of your current bathroom. The advantage of a rustic design is that the overall theme will fit into nearly any type of setting such as a country home, cottage or a log cabin.
Natural elements can add a rustic feel to any home décor. The introduction of dried flowers, natural stones and unfinished, rough wooden pieces can add in the right elements for a rustic bathroom. Furniture that is made out of wood with an unfinished or rough surface are common types of design elements for a rustic feel.
Using logs and wood paneling in the bathroom are able to mimic the feel of a cottage or log cabin.
Natural stones can be used along mirror edges or cabinets to incorporate a more natural and rustic feel in any bathroom setting.
Furniture
You can use handmade or salvaged pieces of furniture which have a visual unpolished look. When you are aiming for a rustic feel handmade, rough furniture can be adorned with a number of textiles and fabrics. Rustic blends have the ability to create a sense of warmth and coziness in bathroom areas.
Colors
Using natural colors such as earth tones, greens, autumn colors and honey hues are recommendable in incorporating a rustic feeling. These colors can compliment the wood you decide to use in your bathroom.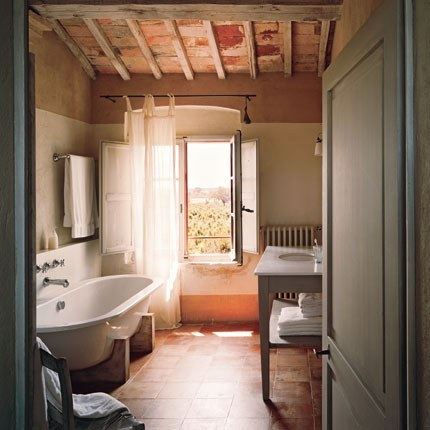 Lighting
There are a number of ways to make light fixtures look rustic. Choose light fixtures with a wrought iron base or you could cover the shades with a natural material such as animal hides. This combination will blend well into your rustic idea for your existing bathroom.
Flooring and Walls
To create the perfect rustic bathroom use log panels on your walls. Flooring options can include hardwood or soft pine for a more traditional look. However, natural cork can add a more contemporary look when you blend it with wooden cabinets. Using rough, plain wooden planks can add storage areas to place decorative objects. Include rugs that are hand-tied for a soft and whimsical addition to your bathroom.
Your bathroom vanities can be made from reclaimed types of wood. You can use other older pieces of wooden furniture in your home and cut them down to make a wooden bathroom sink. Stain the wood to a color that you like and you may want to stain other pieces of wooden furniture in the home to create a flowing pattern.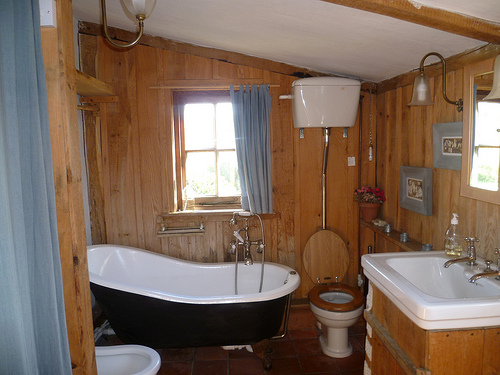 When planning to renovate your bathroom decide on all the rustic elements you would like to incorporate. Once you have your chosen materials ensure that all the elements will work together and fit into your bathroom design. You can personalize your bathroom by adding natural elements from around your home or garden, such as dried flowers in glass bowls or even natural pebbles or stones from your very own garden. For additional ideas on rustic bathrooms visit your local home ware store for inspiration.