Most TV stands are created with the living room in mind. However, a number of households also keep a television in the bedroom. It can be tricky to find a TV stand that won't clash with your bedroom's design. However, it's more than possible.
The type of TV stand that will work best for your room will depend on the style of furniture you use. If your bedroom has a sleek and modern look, you'll want a modern TV stand to match. If you have a more traditional design, a traditional TV stand is best.
While TV stands are made from a number of materials, in the case of bedroom TV stands, it's best to go with something made of wood. The wood should match the tone of the rest of your bedroom furniture as closely as possible. Anything else will look out of place.
The best TV stands for a bedroom will generally be taller than it is wide. A tall TV stand is ideal for viewing from within bed, and will also work well with the design of the room. However, you will want to choose a stand with some width — a stand that's too thin may look off balance, and may not give your TV the level of support that it needs.
A number of TV stands are essentially open shelving units. While that's fine for the living room, this can look sloppy when it comes to bedroom design. It's best to choose something with closed drawers and cabinets.
TV stands that are similar in appearance to dressers tend to work very well in bedrooms. They don't stand out or feel out of place in the room at all, and they have a clean appearance that's free of clutter.
It's a good idea to take several photos of your bedroom before you start shopping for your TV stand. Keep those photos with you as you search, and compare them to any TV stand you see. You want to find a piece of furniture that fits in seamlessly with the rest of the room.
When you're ready to buy your stand, you'll have to decide where you want to look for it. While many retailers offer extremely inexpensive furniture these days, you're better off investing in a piece of furniture that will really last. You don't want to have to go through all this again in a year or two.
You may also want to consider buying your TV stand online. While it can be intimidating to buy furniture you've never actually seen in person, the selection you'll have available to you will be absolutely tremendous. In addition, you'll be able to find some incredible deals.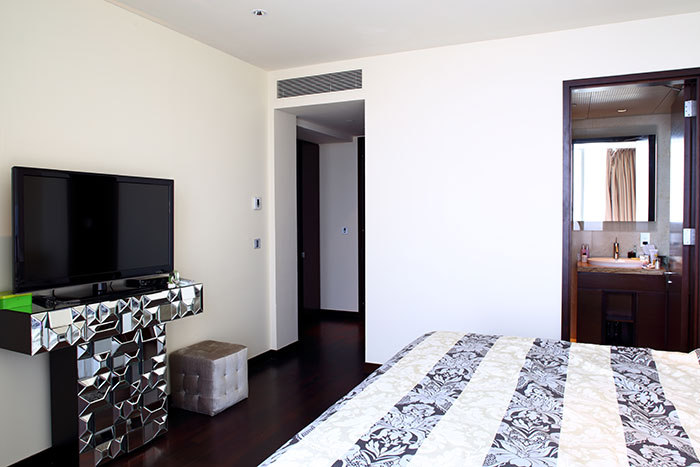 One site you may want to browse is Wayfair . This site has a massive collection of furniture from a number of different designers. There's really something for every price range here, and something that will suit just about anyone's taste and style. Their shipping is also very fast.
You may also want to take a look at is Ballard Design. This is a furniture company that specializes in more traditional designs. They have a number of beautiful TV stands, many of which match their existing bedroom sets perfectly. You'll be able to find something fantastic here.
World Market is a great place to find furniture with a global fair. They feature products made by manufacturers from all over the globe. If you're having a hard time finding pieces that compliment your bedroom set, you'll want to give their unusual TV stands a look.
Fans of modern design will want to check out Design Within Reach. This online store sells a number of incredible TV stands, many of which look like they'd fit perfectly in a modern bedroom. Their shipping is speedy, and their prices are quite affordable, especially when compared to those of other modern furniture sites.
If your bedroom set includes antique or antique-style furniture, you may want to browse the stock at Furbish. This retailer specializes in vintage pieces, and also carries pieces that have a vintage look. You may be able to re-purpose an unusual piece as a TV stand.
Pieces Inc is another furniture retailer that specializes in pieces that have a vintage flair. Because many of their pieces are actually new, it's easy to find something like a TV stand. If you've struggled to find modern furniture that matches your antique style, this is the store you'll want to browse.
Minnesota-based retailer Room & Board carries classic pieces made with exquisite craftsmanship. While this high level of quality comes with a higher-than-average price, their furniture is more affordable than you might think. They also offer custom-made pieces, which means you could find the TV stand of your dreams if you look here.
If you're on a very tight budget, you may want to shop at Ikea. Ikea sells extremely inexpensive furniture that's sturdier and more reliable than the things you'd find at a big box store. Their pieces are easy to assemble, and some of their TV stands are specifically designed for bedroom use.
Even if you do decide to buy online, it's a good idea to take a look at a few local stores in your area. Browsing a furniture store may give you a better idea of just what it is you're looking for, and may inspire you in unexpected ways.
If you do happen to stumble upon the perfect piece, don't be afraid to buy it! Finding a TV stand that works with a bedroom is a challenge, and you shouldn't pass up a piece of great design just because you have other stores to look at.
The key to finding the right TV stand for your bedroom is to find something that feels like a piece of bedroom furniture. Choose a clean, sturdy TV stand that blends in seamlessly with your bedroom pieces. Once you've chosen your stand, you'll be able to enjoy TV more than ever before.