Having a small kitchen does not mean it cannot be decorated to look beautiful and even larger too. Many home owners will give up without trying to design the kitchen in a manner that makes it look much better than it is. Let's take a glance at some of the better kitchen designs out there for smaller spaces that need a little bit of spicing up.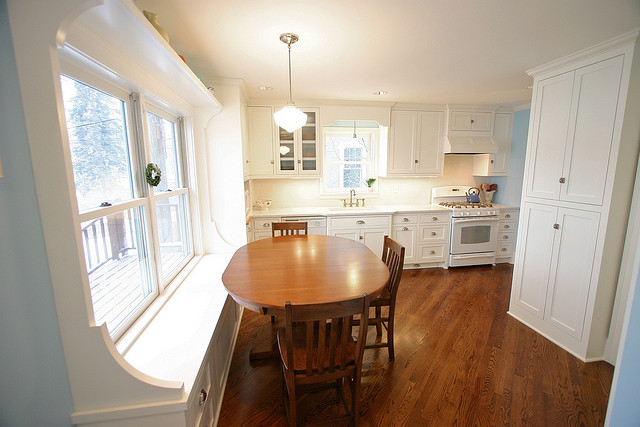 Go Vertical
Frustrated about the kitchen's size? One of the most forgotten realities when it comes to smaller kitchens is the amount of space there is vertically. The walls are taller than what the width is providing and this is often overlooked. It is best to focus on this vertical space and capitalize on it.
By going vertical, it becomes that much easier to see results in terms of creating an illusion of a larger kitchen. Try to redesign the kitchen by working upwards and adding cabinets that are longer than wider. This makes the kitchen appear bigger and also more aesthetically appealing, which is a major win.
Stay Narrow
Always aim to stay narrow with anything that is being added to the kitchen's design. A smaller space will not accommodate those larger, wider items that will not only take up space, but look bulky to the eye.
Two narrow cabinets instead of one larger cabinet will make the kitchen look bigger and nicer to the eye. The eye will only be able to see the number of cabinets that are there and not pay attention to the width.
This is important and should be taken into account when redesigning a smaller space. Wider cabinets might provide more space in one, but it will look out of place in a smaller kitchen and that can hurt the aesthetics.
Add Color
There is nothing better than going with a little bit of color to make the kitchen appear more appealing. Color is able to add space all on its own and does a wonderful job of making the kitchen look just that much bigger.
The colors that can be added are up to the individual, but as long as the colors are not bland, the chances of seeing quality results are higher. The home owner can choose the color based on the kitchen and its specifics, but it should be something that matches and fits in well with the ethos of the room.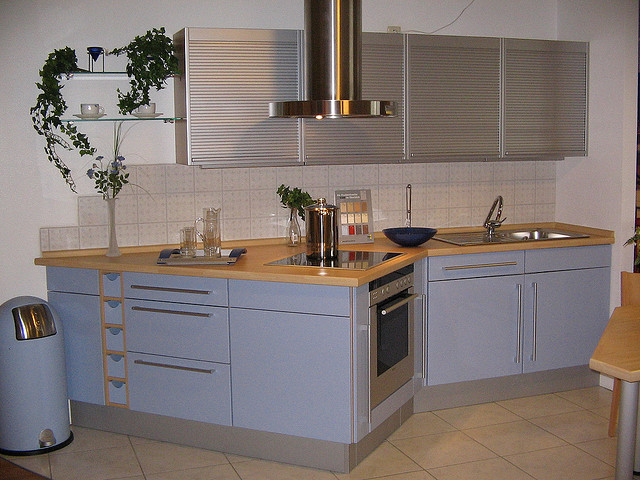 Mix and Match Textures
Textures are a major part of the process and should be a great method employed when trying to redesign a smaller space. Try to mix and match textures such as the cabinets, counter tops, and flooring to make the kitchen appear larger than it is.
All of these factors will help create the perfect kitchen design for smaller spaces. These are essential when trying to find the right balance between what is needed and what will look great.
Home owners should not be afraid to mix and match to find something that is unique and fits in well with their requirements.