Kitchen updates are a popular choice for home improvement projects, mostly because the kitchen is considered the center of the home. Also, kitchen remodels typically add nearly as much equity to the home as the cost involved in their completion.
While most people think of new cabinets, counters and hardware when a kitchen remodel is mentioned, what would a new kitchen look like without a beautiful new floor? There are various options when it comes to flooring for the kitchen, but tile is probably the most popular choice. The next question a homeowner needs to consider is what type of tile is best for a kitchen floor. The answer to that depends on the homeowner and their particular preferences.
Many people love ceramic tiles because the material is available in nearly unlimited colors and designs. While a beautiful kitchen floor can certainly be created with ceramic tile, it is not the preferred choice of some people. For one thing, ceramic tile is easily broken if a heavy object is dropped on it. This often happens in the kitchen when a metal pot or pan slips from someone's hands, or even a heavy jar falls to the floor. Of course, the tile can be replaced, but most homeowners are not able to do the repair themselves. Another issue of ceramic tile is the comfort level. Ceramic is cold on bare feet, and people who live in colder climates may choose flooring that has a warmer feel during the winter months. One way to overcome this problem is by installing a heat grid beneath the flooring. This option can be used as a way to provide heat to the kitchen and dining area, and it makes the flooring comfortable in any temperature.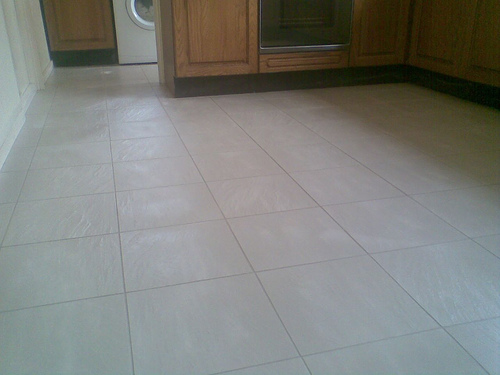 There are also options in stone tiles or vinyl tiles. While natural stone tiles are beautiful, they can be quite costly, and they are also less than comfortable in colder climates. New developments in vinyl tile give the homeowner the option of having the look of stone tile in their kitchen at less expense. The vinyl tiles are also more comfortable underfoot in cold weather, and they provide more cushioning.
One kitchen flooring option that few people consider is cork. Cork flooring is available in various colors and patterns. Cork is comfortable in all temperatures and also provides a cushioned surface. The most negative characteristic of cork for a kitchen area is that it can be damaged if water spills are not cleaned up promptly, but small spills typically are not a problem.
Many modern homeowners choose natural wood or wood laminate flooring for their kitchen. Wood flooring adds the look of warmth to a kitchen, and it is relatively easy to maintain. Although natural wood is more vulnerable to moisture damage than engineered wood, just a quick sweep with a broom and cleaning with a damp mop is all the cleaning that is usually required. A steam mop is also a great option for use on either wood or laminate flooring.