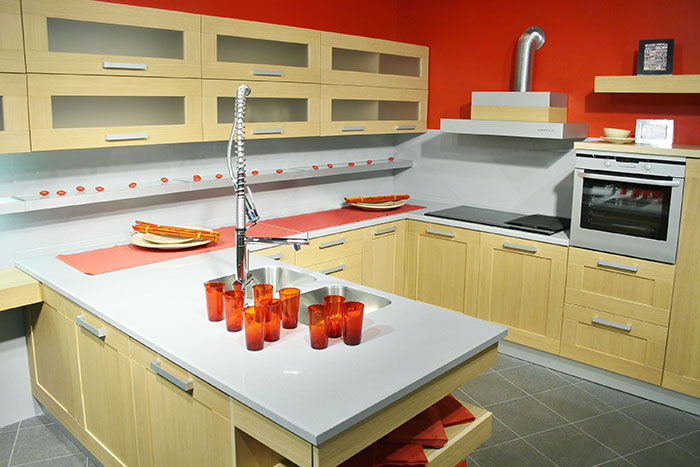 So, you just found your dream house but there's only one slight problem: despite the rest of the house being perfect, your kitchen is tiny. Most likely, that is not what you had in mind. However, you can either take a house that is as close to perfect as it gets, or just keep on searching. Most people would probably choose the first option. But that doesn't mean that you just have to accept that you have a small kitchen and that there's nothing else to do about it. Do you have to remodel your entire house to make your kitchen larger? And spend a substantial amount of money doing it? Of course not! In this article you will find several tips on how to make your kitchen look larger and how to decorate even the tiniest of kitchens to make them look brilliant.
If your kitchen has solid cabinet doors, the best thing you can do to give it a larger impression, is to replace these doors with glass ones. Obviously, if your kitchen is completely empty you don't have to replace anything, but you can simply choose glass cabinet doors for the ideal design. Because glass allows the eyes to travel through the back, the kitchen automatically looks more expansive. Do note however, that you don't clutter your cabinets with all sorts of stuff, because that will defeat the purpose.
Now that you have glass cabinet doors, you might as well give a new finish to the cabinets. You can do that by painting them in the same color as the wall. This will erase visual boundaries that stop the eyes. This will also ensure that the space looks bigger. You might even consider painting the entire kitchen in a darker color, such as navy, charcoal and chocolate hues. These colors are giving the impression that the walls are in fact more back than they really are.
Once you're happy about the color of your small kitchen, you can choose your furniture. Make sure that you choose streamlined chairs and tables that are compact as well as comfortable, so that they don't eat up valuable space. If anything, avoid any chunky furniture that adds visual bulk.
Try to keep the overall look of your kitchen as clean and neat as possible. Fussy details will make the kitchen feel chunky, unorganized and simply to full. By choosing a sleek and smooth look you create a more spacious feel.
Instead of cabinets – if you have a really small kitchen – you can even choose to use open shelves for storage purposes. Open shelves, reduce visual clutter and give the room the illusion of more expansive space. Floating shelves are ideal for this.
You need to avoid clutter at all costs. By cluttering your kitchen you make the room appear to be bursting at the seams. Instead, you can put your focus on a few items that you need to have within reach and hide the rest inside of the cabinets.
Another good strategy to make your kitchen appear larger than it is, is by choosing patterns that guide the eye towards the ceiling. This makes the kitchen look higher and therefore larger.
Eliminate window treatments to enable as much light as possible to get into the kitchen. This will also ensure that your kitchen looks much more spacious and also increases the overall look and feel of your room.
Whatever you do, always look at it from a positive perspective. If you are not spending too much time cooking anyways, there is no need to have a great kitchen just for the look of it. With a small kitchen, you're most likely able to have larger rooms, which are probably of more benefit to you.