If you are health conscious and design conscious at the same time, then you may have a home gym that you want to update into an attractive place for workouts at home without the hassle of visiting a gym.
Not every home has a home gym. But of those that do, some have a separate room for it. Other homeowners combine their home gym with their living rooms. How you pick your spot for the gym depends on the fitness equipment you own and the space in your home. But here are some home gym design ideas to inspire you with setting your gym.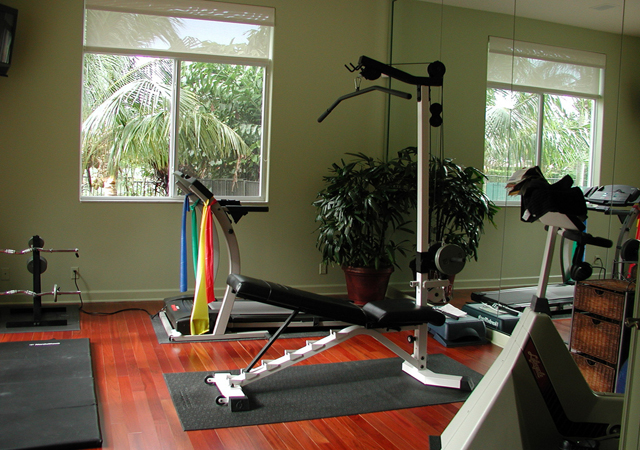 1. Brighten and Enlarge the Small Home Gym With Mirrors and Skylights
If you have a small home gym with just the basic equipment, you can make it appear more spacious with mirror paneling across the longest wall of the room. If you can, add plenty of skylights to let in sunlight and air from time to time for healthy workouts. You can always control the sunlight that enters with blinds. And no matter how small a room, you can always add some basic gym equipment that will give you a good workout each day. These can include an exercise cycle, a power tower or even simple some weights.
2. Add Durable Gym Flooring
You can make your home gym floor extra durable and protect the existing flooring of the room, by using rubber gym flooring that is available from many manufacturers. These are usually in the form of large rubber tiles. They are tight fitting and will not usually move with heavy use. They are also very easy to clean. While they come in many colors and patterns, choose a black with grey speckles to camouflage any dirt that it catches before you have the chance to clean.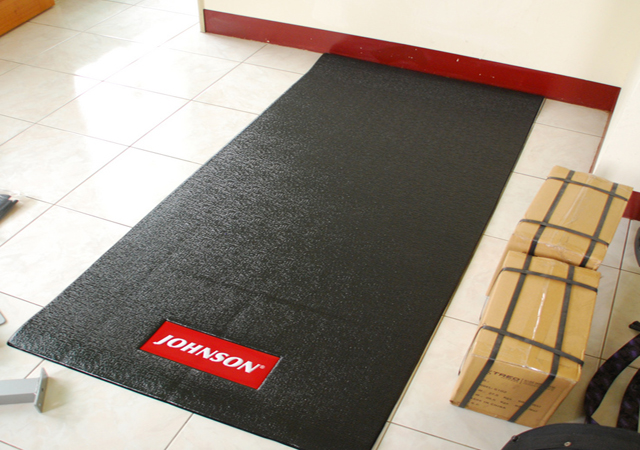 3. Turn a Traditional Room into a Gym
A large room with hardwood flooring and traditional furniture can be turned into a modern home gym with up to date gym equipment. Simply add some modern accents in the form of simple area rugs, some sleek potted plants and surround with mirrors.
4. The Glass Enclosed Gym
Instead of placing your home gym between four walls, it can be more airy and fun to replace the walls with glass paneling. Or build a glass enclosure in a large basement space. You can also section off a part of a large living space with glass as an alternative.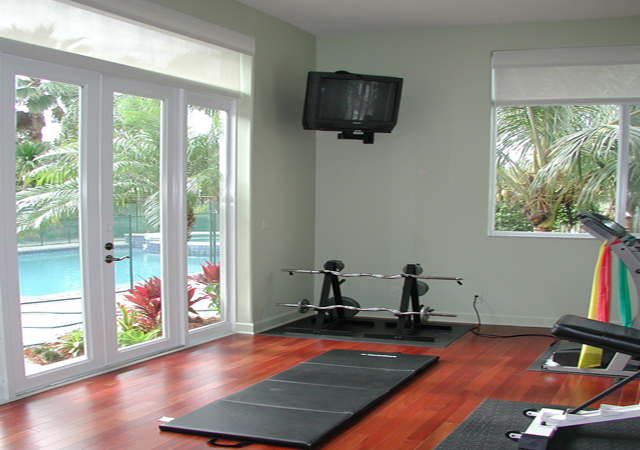 5. A Gym with a View
If you have a room that overlooks the sea, a beach, a valley or even a cityscape, then it will be worthwhile to place as many windows and glass panels on the walls to give you something beautiful to look at as you exercise. Keep the walls a neutral and light color to make the space as bright as possible. Let the sunlight in from floor-length paneling.
6. Living Room and Gym
Like many people who have their gym area in one corner of the living room, you can choose a well-lit area in your living room for your own home gym. It is great if you can have a window or a balcony in the area. Add potted plants and mirrors or glass for spaciousness.