From gentle lilac to classic lavender, and from trendy amethyst to deep eggplant, purple has to be one of the most understated yet incredible colour choices for the bathroom. With one splash of colour the bathroom can be magnificently transformed from a regular spot for a splash and dash to a fine bathing area for royalty!
How can you achieve the current, sophisticated and trendy purple look in your bathroom? How can you design your bathroom in a way that will maximise on that soothing, classy and relaxing ambience that purple is capable of delivering? It's time to find out!
Deep Purple and Sophisticated Silver
If you are want a look that successfully mixes elegance with style then choose a bold deep shade of purple for wall colour. Remember you don't need to colour all walls, infact a splash of colour on one wall, or even part of a wall can be much more striking. Combine your bold statement colour with cool and chic silver accessories to complete your elegant style.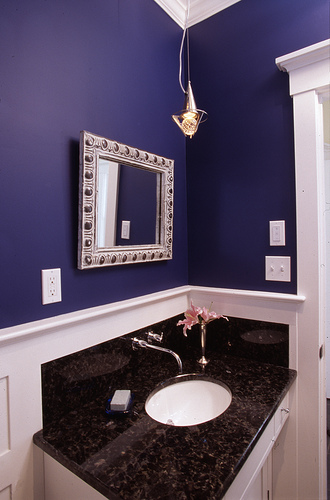 Light Lavender and Whispery White
Lavender is a wonderful shade for instantly creating a soothing, stress free, relaxed and serene ambience. Combine light lavender with cool whispery white shades to create a haven of peace and tranquillity. For this look to have the desired impact keep accessories minimal, don't clutter and don't add any other colours to the mix. Instead retain that cool spacey atmosphere that can be achieved in even the smallest of bathrooms by combining light lilac with whispery whites.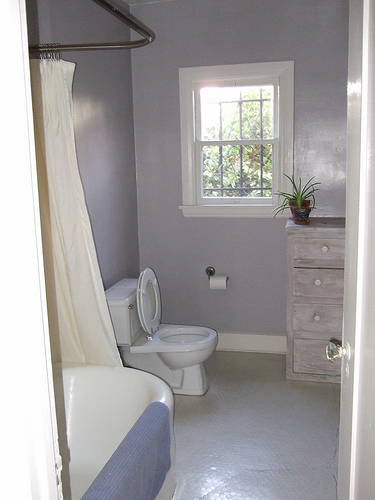 Say it in Black and White
Black and white is one of those stunning matches made in heaven that will never go out of style. Add a dramatic splash of amethyst to the mix and create a bathroom that you will never be ashamed to show your guests to. Black or silver accessories will complete this ultra trendy bathroom design.
When considering a purple designed bathroom, many people think that they must chose only one shade of purple. Certainly if the aim is for a cool, spacey and airy bathing retreat, then often one shade of purple will give optimum results.
However if you have a retro side to you that is dying to come out then indulge your indecisiveness and choose a host of appealing purple shades to create a truly retro look. One way of achieving this design is to keep all wall surfaces white (painted brick looks amazing for this design), then use your choice of purple shades for cabinets and accessories.
Remember retro is all about experimenting and putting shades and colours together that can offer an element of surprise. Playing retro is not always playing safe, but the end result – spectacular!
So if you are thinking about re-designing your bathroom why not consider the truly incredible shades of purple? It may be an understated colour but there is no doubt it has the power to uniquely and beautifully transform your bathroom.